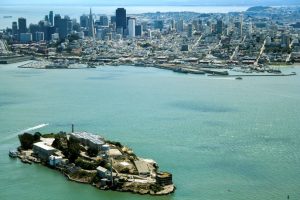 VTS2018 social event will be thrilling, as every year's event, to let you enjoy the location and live the community!
This year our social event will start with a short (0.7 mile) walk from the conference venue to Pier 33 Alcatraz Landing, where we will board the cruise to Alcatraz Island in three groups.
All Alcatraz Island tour tickets include round-trip transportation, as well as the award-winning Cellhouse audio tour, available in Dutch, English, French, German, Italian, Japanese, Korean, Mandarin, Portuguese, Russian, and Spanish.
Upon the return from Alcatraz Island tour, another 0.6 mile walk from Pier 33 to Bistro Boudin, 160 Jefferson St, San Francisco, CA 94133, where we will continue to make connection with our VTS colleagues in the unique waterfront restaurant with legendary sourdough bread.
Precise instructions and directions will be distributed at the symposium.